Animal Safari 11-Piece Gift Set Bundle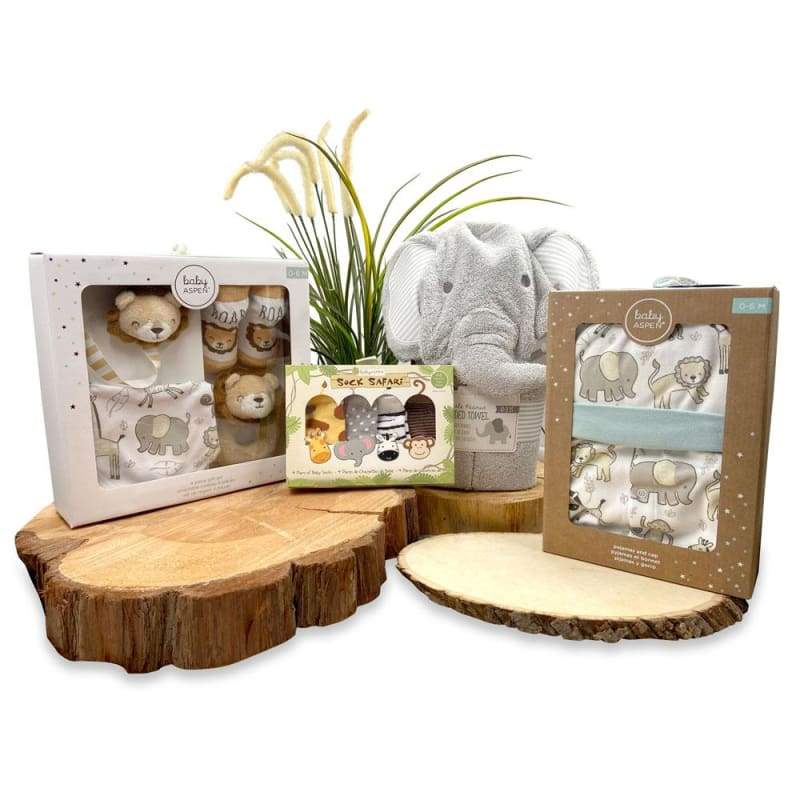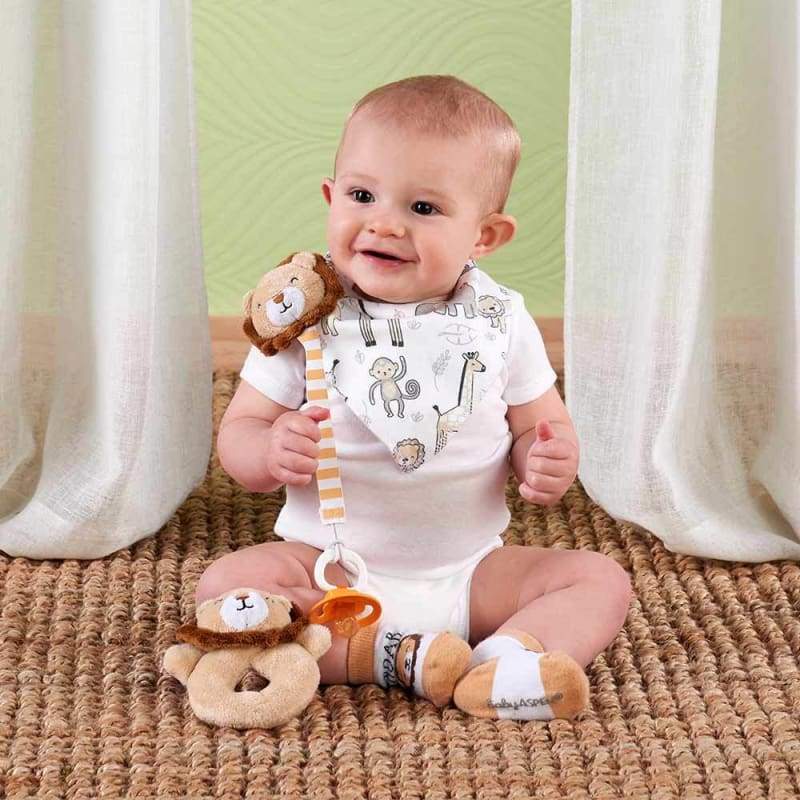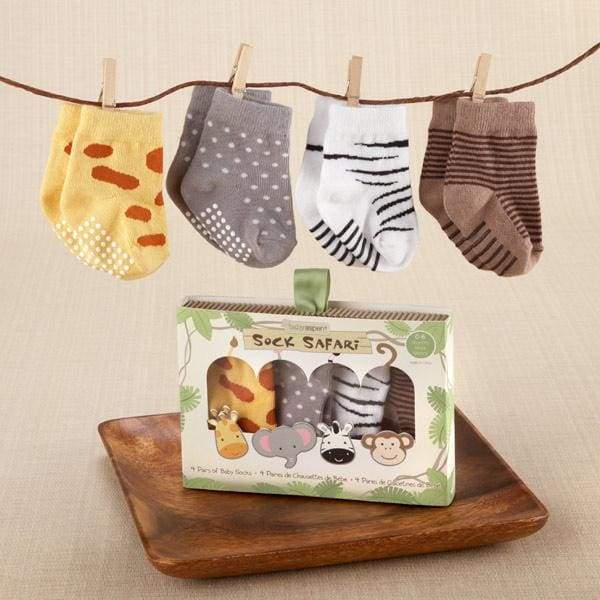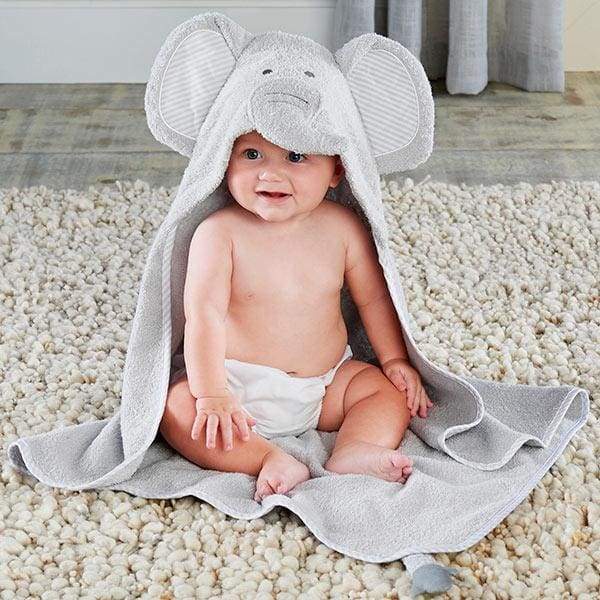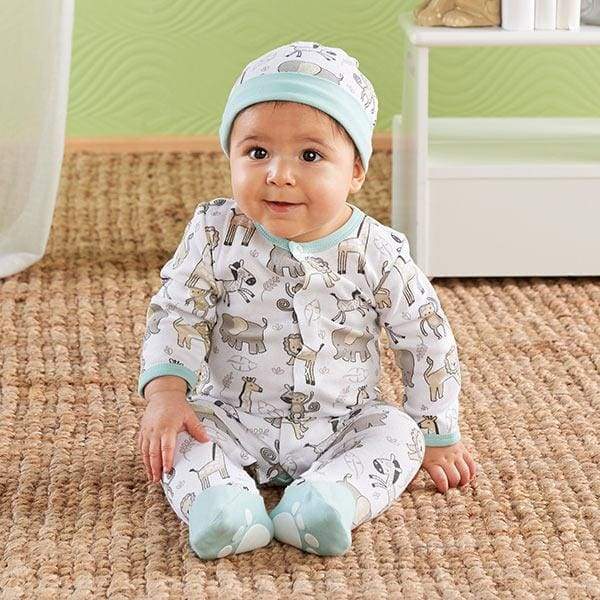 This Animal Safari 11-Piece Gift Set Bundle from Baby Aspen makes the perfect gift for baby showers and children's birthdays. The four product bundle is delightful for parents of both boys and girls to make an impact on their child's special day. This special set can be combined into a welcoming basket for an exceptional gift for parents who are looking for unique additions to their baby's wardrobe and routines. The Safari 4-Piece Gift Set features exclusive items such as a bandana, sock set, paci-clip, and rattle in a jungle theme. The four-piece sock set lets you dress baby with safari socks for days! A Little Hooded Elephant Towel is perfect for bath time. The Safari Pajama Set is truly adorable for bed time to get baby nice and cozy. Baby Aspen is the place to shop for delightful gifts that will soothe parents and children alike. These special sets are one-of-a-kind as their own and make an adorable bundle for a present that will impress any recipient. Each safari gift can accent a nursery theme or a wild shower that will be great for photo opportunities as baby grows and learns their own interests.
Features and Facts:
1 bandana bib. Multi-color safari print on cotton interlock. Measures 12.2" w x 9.3" h x 0.4" d
1 pair of white knit socks with lion face and words "Roar. Measures 2.6" w x 4.7" h x 0.4" d
1 paci-clip. Short pile velour lion face plush with embroidered eyes, nose & mouth in black. White plastic clip is attached to back. White and tan striped grosgrain ribbon with a white elastic loop at the end is attached to the bottom of the plush. Measures 3.2" w x 9.7" h x 1.3" d
1 rattle. Short pile velour ring rattle in tan & brown of the lion. Embroidered eyes, nose & mouth in black. Measures 4.3" w x 4.9'h x 0.8" d
4 pairs of animal-print (giraffe, elephant, zebra, and monkey) socks with slip-proof bottoms. Giftbox presentation showcases the four pairs of socks in a display window; around each pair of socks is the baby animal's face and tail; the cream-colored box is decorated with jungle vines, green leaves, and fronds. Size 0-6 months. Gift box measures approximately 5" h x 7 1/4" w x 1" d.
1 gray and white elephant terry cloth towel features an adorable elephant face with dark grey embroidered features, floppy ears, and a 3-D trunk; towel has coordinating grey and white striped detailing on the ears and trim. Machine washable.0-9 months. Towel is approximately 34" w x 40" h.
1 two piece pajama gift set features white footed pajama with print of safari animals including giraffes, lions, monkeys, zebras, elephants and leaves; pajama has mint green trim and a white paw print on the bottom of the feet. Matching cap is white with safari animal print and mint green trim. Suitable for ages 0-6 months. Pajama measures 8.5" w x 0.4" d x 22" h; cap measures 7.1" w x 0.8" d x 5.3" h.